Terry Scott Taylor
Avocado Faultline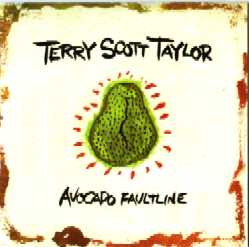 In his first acoustic album the prolific doppelganger Terry Scott Taylor has tackled the singer/songwriter genre and pegged it perfectly. The music on Avocado Faultline is a blend of pop, rock, country, and Americana folk-song story telling music. Taylor has taken the laid-back, relaxed vocal style of Don Williams, mixed in Jimmy Buffet's playful sense of melody and combined it with his own keen observations of the human condition. While I am normally quickly bored by this genre, Taylor manages to add enough musical twists and wry humor to bring me back, with each listen endearing these comfortable songs more.

With as much truth as humor, Taylor lambastes the Yoko Ono phenomenon in "Pie Hole" writing such great lines as "She thinks we'll consider her just one of us/ If she drinks like a sailor and knows how to cuss" and "I like restaurants or parties with mixed company / But there's times I like hanging out with must my buddies and me." While most of the album is very relaxed, "Built Her Like a Cloud" kicks things up with a great country-rock feel that would have been right at home on a Lost Dogs album, one of Terry Taylor's many side-bands. The eerie "With What I Should Have Said" is shockingly mid-90s Bob Dylan with comparisons to his Oh Mercy album inevitable. "Startin' Monday" is full of gentle humor as a kind of flip side to "Margueritaville" with Taylor taking the view of someone who's spent his life screwing around and ready to change... starting Monday. One of my favorite songs is where Taylor sings "You're a little long in the tooth, babe / Me, I'm puffy and under the weather / But the drunker I get... / Honey, you're looking better" and "Pretend I'm Elvis for just one night / I will call you Pricilla, if that's alright / Don't we look sorta like 'em / In the neon light? / Let's pretend I'm Elvis, darlin' / For just one night." Three guesses as to the name of the song.

With its many charms, Avocado Faultline should bring this talented artist a whole new audience. The album is highlighted by heartfelt lyrics and songs that mix intelligent artistic expression, gentle humor and commercial accessibility. This is Americana at it's best! If you can't find this album locally, go to www.silentplanetrecords.com

This review first appeared in WhatzUp, August 2000.