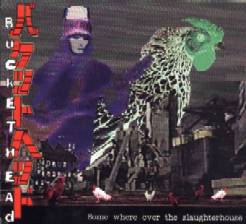 Buckethead
Some Where Over the Slaughterhouse



I really enjoyed last years re-release of Buckethead's Giant Robot which took eighties instrumental metal guitar and mixed it with a bizarre bucket of disjointed parts to create a bewildering theme park ride. I later read where Buckethead, this shadowy figure who plays his sizzling guitar with an expressionless white mask and a chicken bucket on his head, had become the newest guitarist for Gun's N Roses. This is sure to confuse longtime GNR fans as this virtuoso misfit is no "sweet child" in any conformist's dictionary. For instance, Buckethead once auditioned for the Red Hot Chili Peppers. When he arrived he admitted that he had never heard any of their albums and only knew a few songs... by title only.


This latest solo release, Some Where Over the Slaughterhouse is a mix of dark and white meat. A few of the songs (well, compositions actually as there are no lyrics) are very good, churning metal guitar with drum loops and unearthly keyboard sounds. For instance, "Help Me" finds this same vocal loop repeated at various points in the song while a rave-induced drum track duels with a particularly nasty rhythm guitar through a variety of cat and mouse scenarios. Likewise, "Pin Bones and Poultry" is an actual composition with a variety of themes in a thought-out arrangement of guitars and wigged-out keyboards. The second half of the album, however, is more similar to the experimental music of Sonic Youth or repetitive video game music. "You Like Headcheese?" begins with an organ and flute intro before becoming what sounds like three minutes of Buckethead playing with a drum machine. In "Wires and Clips" it's almost as if someone plugged Buckethead into a guitar synth, hit record and later decided to overdub some drum machine loops decided by rolling dice. Have you ever wanted to listen in as a guitarist works on writing a song? Check out "Conveyer Belt Blues", a celtic-derived acoustic based heavily on a single simple theme. Maybe playing in such as "accepted" band as GNR has driven Buckethead to become more experimental on his solo albums... maybe he's finally cracked. The good tracks on this album remind me why I love this guy's music... he teeters on the edge of sanity, the electric guitar buzzing away making unnatural noises, and you wonder if he'll fall off the edge. With this album, it looks like he finally has.


This review first appeared in WhatzUp, August 2001.