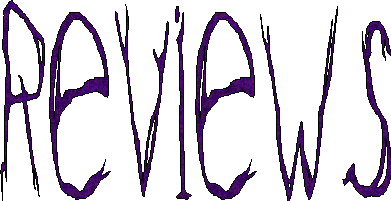 Those Darn Accordions!
clownhead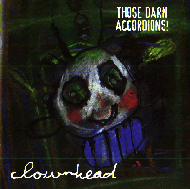 As a burgeoning young accordion player, how could I resist a band that boasts of having six accordion players? As clownhead spun the first track, "They Came For Accordions", an eerie sci-fi tale of an alien invasion, replete with otherworldly sounds and a solid drum and bass groove, it was quickly obvious that this was not a polka-fest. "Wall of Gum" is a slow rap about a man named Lloyd who ventured too close to Bubble Gum Alley. "Lapis Lazuli" is a tango-flavored instrumental that fits the voice of the accordion quite nicely while "I Think About Stuff" is a swanky, strolling song about, well, stuff. Octogenarian tattoo-covered Clyde Forsman croons "First Bratwurst of Summer" with it's rousing chorus of "BEER! BEER! BEER!", a song that manages to perfectly capture the feeling of a summer picnic. The question of who accordion players pick on is answered in my personal favorite, "Hippie With A Banjo" with lyrics such as "Now I've been to a dentist with a very dull drill/ Hammered on my gums, I remember it still/ …But nothing compares to the pain I feel/ When I hear the twang of those strings of steel" and "Just when I thought this was the worst that I seen/ Here comes his girlfriend with a tambourine." Good stuff! True to their past albums, they include two accordion "enhancements" of classic rock songs. Past albums included Do You Think I'm Sexy (sung by 84-year old Clyde), Stairway to Heaven and even Also Spracht Zarathustra (the theme to 2001). This time around they tackled "Low Rider" by War and Devo's "Uncontrollable Urge". Surprisingly, you would think that the Devo song would fit this medium better but it is the weaker of the two. "Low Rider" kills.

Overall, Those Darn Accordions! do a fairly good job of avoiding the novelty album stigma when an album grows stale after two or three listens and you've heard all the jokes. Here, the songs are melodic, well written and the humor is more subtle than just a series of one-liners. And fear not, while one would think that a band with six accordion players, a drummer, and a bassist would produce music completely saturated in accordion sound, I found this not to be true. The bass and drums provide a solid foundation and usually only a few accordions play at the same time, each with different parts and timbres, giving a full but not busy sound. With strong songs such as these, it's easy to see why their fans include Drew Carey, Penn and Teller, and now this humble accordionist.

This review first appeared in WhatzUp, March 2000.