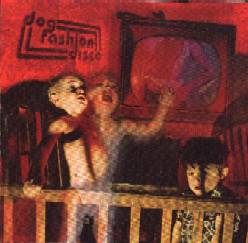 Dog Fashion Disco
Anarchists of Good Taste



And now for something completely different. This debut by Dog Fashion Disco is quite a trip. Think Korn meets Mr. Bungle in a blender operated by Zappa with more mood swings than any politically correct analogy can capture. For instance, "9 to 5 At The Morgue" goes through four different intense changes before the song is thirty seconds long. In the middle of the song a flute part lulls you into a false sense of serenity before plunging down a 90-degree incline on a roller coaster run by evil clowns in S&M gear. With song titles such as "Leper Friend", "Cartoon Autopsy", and "Pour Some Urine On Me" the lyrics are tongue-in-cheek (although the tongue is pierced and so is the cheek) albeit rough and crude and only sometimes humorous. A brief sample: "Don't fall asleep or we'll mutilate your genitals" followed by demented muchkin singing. "Vertigo Motel" is quite appealing, beginning with a soft piano which changes to a bit of Super Furry Animals that turns into samba for about six seconds then some heavy angst and later a John Zorn-inspired sax and piano duet. Elsewhere, keyboards are used to enhance the wicked-carnival feel with lines seemingly borrowed from members of the Adams Family. This aberration of an album also helped me answer the burning question of how many times I can stand to hear someone shouting "Shut the f**k up you maggot" (Answer: A lot less than is supplied in "Corpse is a Corpse"). Musically I'm all over this album. Each song is a carefully choreographed obstreperous donnybrook with enough energy and musical changes to keep even the most Ritlin-deprived youngster interested. There's funk, jazz, metal, classical, rock, classical rock, ska and much that defies description. Lyrically, well, maybe I'm getting older. I was a hard-core Alice Cooper fan so humorous gore in lyrics is nothing new to me... I just don't like having the camera plunged into wound again and again with such reckless glee. Those with strong stomachs and extremely adventurous tastes (or the curious rubbernecker who slows down to look at bloody accidents) would do well to investigate the hardcore nu-metal circus of Anarchists of Good Taste. If you're not a fan of autopsy specials, you might want to see what The Black Crowes have been up to lately.


This review first appeared in WhatzUp, June 2001.