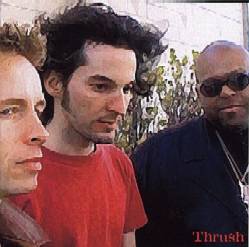 Thrush



I'll readily admit that I'm a fan of The Rembrandts. After stumbling upon their first album, I eagerly awaited their second, enjoyed their success with the Friends theme song (it's still a good song although I found the album itself weak), and braced myself for the inevitable backlash and chaos such popularity invites. Then Phil Solem left and Danny Wilde put out that horrid fourth album under Rembrandts flag. I have heard a past Wilde solo album and was not impressed (think of a blander Bon Jovi) so it was with great interest that I sought out the solo work of Phil Solem. I suspect Phil carried Danny all the way to stardom. Maybe Wilde is a musical catalyst for Solem or maybe but a pretty, extroverted front man, but the music on this CD reveal that Phil Solem is the musical brawn behind the tasty melodies and energetic rhythms of those early Rembrandts albums.


Thrush is a three-piece Minneapolis band and while this CD is a local release, its production values are definitely equal with any major label release. The album opens with "The Last Minute", barely containing a tension-filled verse that explodes in the chorus, plus lots of nice production extras. "You", an emotive love song of sorts, features Roger Manning of Jellyfish on keyboards and is easily one of the best on the album. "Worst Best Friend" is the dark underbelly of "Rollin' Down the Hill" and is filled with great harmonies and seething guitars. Throughout the entire album, Phil's amazing and familiar guitar work reminds the listener that pop music needn't be fluff. John Fields on bass and Michael Bland on drums play flawlessly through the expertly-written arrangements that are more complicated and challenging than a first listen makes them sound. Of the thirteen songs, three are mind-numbingly indescribable... the remaining ten are merely great. With its harder, darker, faster, rockier Rembrandts sound, this is the album the Rembrandts were trying to make with their LP album. If you've got a hankering for some great, energetic power pop tunes, skip over to http://www.implex.net/thrush/ and get yours hands on this disc!


This review first appeared in WhatzUp, June 2001.